Use our thorough list of electronic enclosure manufacturers and suppliers in Oklahoma to examine and sort top electronic enclosure manufacturers with previews of ads and detailed descriptions of each product. Any electronic enclosure manufacturers can provide electronic enclosure products to meet your company's specific qualifications. An easy connection to reach electronic enclosure manufacturers through our fast request for quote form is provided as well. This source is right for you whether it's for aluminum enclosures, computer enclosures, or any other electronic enclosure needs.
Leading Electronic Enclosure Manufacturers
Companies Serving Near Oklahoma
Humble, TX
|
281-548-3424
For over three decades, ABTECH has offered electronic enclosures, electrical enclosures, explosive proof enclosures, aluminum and stainless steel enclosures, custom enclosures, electrical cabinets, instrument enclosures, metal boxes, NEMA enclosures, plastic enclosures, and so much more. All enclosures meet and exceed the needs of industrial and OEM applications – oil, gas, petrochemical...
$$$
Houston, TX
|
888-636-2269
Nema Enclosures Mfg. is a leading provider of NEMA-rated electrical enclosures. Serving a wide variety of industries including chemical/petrochemical, traffic control, power generation, telecommunications, with high-quality products and services. We have over 25 years of experience manufacturing custom enclosures that meet your needs. All of our enclosures must meet our NEMA standards, they are...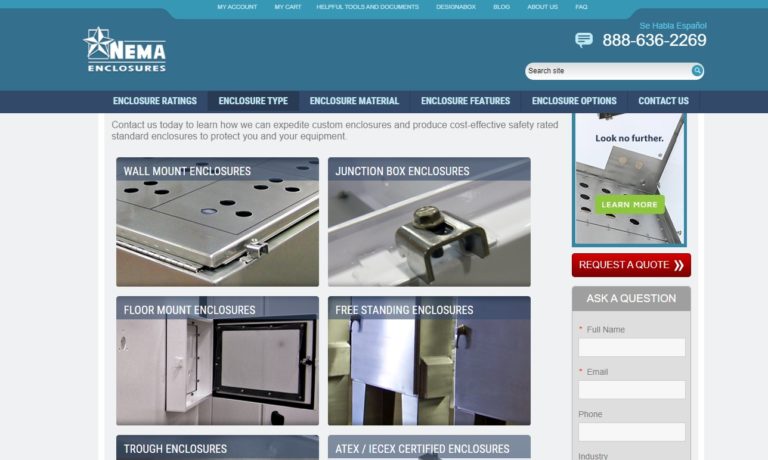 $$$
Salt Lake City, UT
|
801-483-1533
We participate in a broad array of industrial markets, providing design expertise, specialized manufacturing and quality standards to meet and exceed the expectations of our diverse original equipment manufacturer (OEM) customer base for a variety of applications.
$$$