Electrical enclosures protect electronic instruments and equipment from accidental contamination, interference, and touch. These enclosures' contents, which frequently contain delicate electrical circuitry components, must be shielded from airborne contaminants like dust and liquids like water. Additionally, accidental contact with this circuitry could harm people and harm the machinery itself. Electromagnetic interference (EMI) can interfere with the operation of many electronics by disrupting their circuitry without a suitable shield. Read More…
Electrical Enclosures
Electrical enclosures house electronic equipment and instruments from unintentional contact, contaminants and interference. The contents of these enclosures are often sensitive components of electrical circuits and need to be protected from dust, dirt, water and other liquids.
Design of Electrical Enclosures
Electrical enclosures are frequently composed of aluminum, stainless steel, or plastic and are typically rectangular. These enclosures can be as small as a few square inches, like a LED flashlight's housing, or as vast as a few hundred square feet; the largest enclosures are rooms.
Some electronic enclosures, such as electrical cabinets, snap together like clamshell containers, while others include doors or detachable panels to access the items inside easily. Even though they are often boxy, stainless steel or aluminum enclosures can be rounded to fit equipment with disc shapes like meters and gauges. Portable, desktop, display, wall-mounted, and cabinet enclosures are typical types of electrical enclosures; the size and function of each variety range from tiny enclosures that can fit in the palm of your hand or a pocket to boxes with clear panels for touch displays.
Electrical enclosure designs can be extremely simple or quite complicated. Some are constructed from metal, and others are molded plastic forms with knockouts, vents, and internal structures to keep specific components in place. Some are hollow, lidded aluminum boxes that mount to the wall. Flanges and gaskets ensure a tight seal. Aluminum has been extruded—a technique in which metal bars are forced through dies—is used to make a sizable number of enclosures.
Stainless steel is often cold rolled and welded into a box or cabinet. Electrical enclosures made of plastic are strong, lightweight, and, in some cases, even more resilient and safer than steel ones. But metal is typically utilized for heavy-duty enclosures.
Types of Electrical Enclosures
The different types of electrical enclosures include:
NEMA 6 Enclosures
NEMA 6 enclosures are made for indoor and outdoor use and employed in applications where brief, sporadic submersion in water may be possible. Numerous industries, such as maritime transportation and electric cars, use these weatherproof boxes. As a result, a NEMA 6 enclosure has a few challenges for design engineers. In addition to offering protection against unintentional contact with electrical equipment, NEMA 6 enclosures offer protection against moist conditions, falling dirt, the exterior production of ice, and water infiltration while momentarily submerged.
NEMA 6P Enclosures
Despite allowing for prolonged submersion in water (thus the "P" in 6P), NEMA 6P enclosures provide the same level of protection as NEMA 6 enclosures. Additionally, these devices add another layer of corrosion defense. As a result, NEMA 6P enclosures are the most resilient type of electrical enclosure available today.
Type 6P waterproof enclosures are frequently used to house electrical instruments and gadgets in isolated caves and underground mines because of their capacity to tolerate harsh environments. Additionally, they safeguard electrical equipment in potentially very corrosive offshore settings. For the safe protection of electrical equipment, NEMA 6P enclosures are required since chemical cleansers can potentially cause corrosion.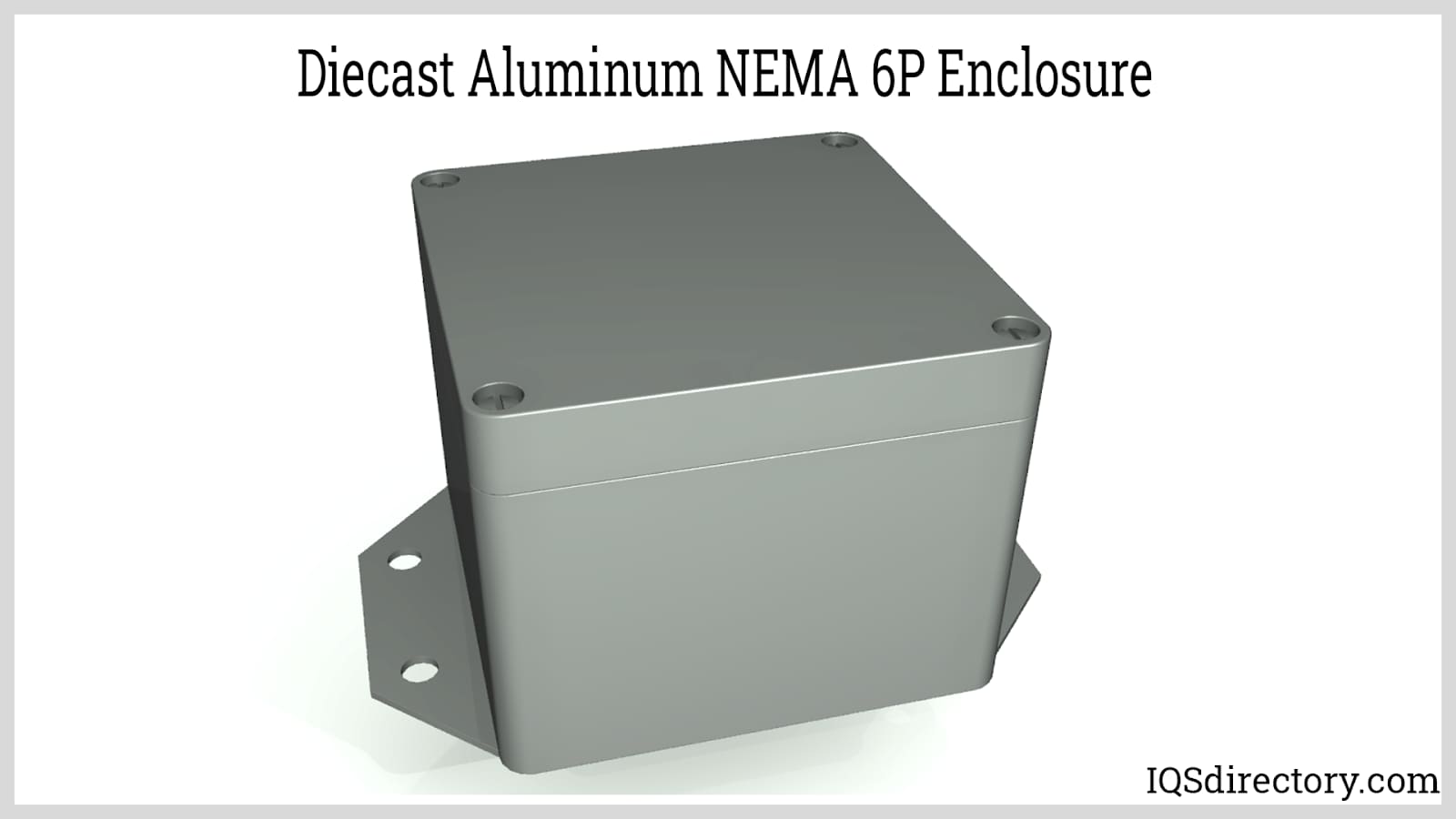 NEMA 7 Enclosures
NEMA (Type) 7 enclosures were created for hazardous interior areas designated Class 1, Division 1, Groups A, B, C, or D, as defined by NFPA 70. These hazardous classifications include environments with combustible airborne gasses that could result in interior explosions. Explosions can be contained in explosion-proof enclosures, such as NEMA 7 enclosures, without inflicting external damage. As a result, these enclosures are frequently used in chemical factories and oil and gas facilities, where life-threatening explosions could occur.
NEMA 12 Enclosures
NEMA 12 enclosures are generally paired with indoor applications because they offer protection from non-corrosive liquids, falling debris, dust, and water drips. Despite their higher number, NEMA 12 enclosures are more protective than NEMA 1 and 2 enclosures. NEMA 12 enclosures are less protective than outdoor electrical enclosure types like NEMA 4X and NEMA 6P. It is well known that dust harms electrical equipment. Various components in the dust might make it flammable and explosive. NEMA 12 enclosures are made to keep electrical equipment, such as automation equipment, operating efficiently to prevent the entry of dust and filth. Additionally, they guard against water dripping or splashing into the building.
Choosing the Right Electrical Enclosure Supplier
To make sure you have the most constructive outcome when purchasing an electrical enclosure from an electrical enclosure supplier, it is important to compare several companies using our directory of electrical enclosure suppliers. Each electrical enclosure supplier has a business profile page highlighting their areas of experience and capabilities, along with a contact form to directly communicate with the company for more information or request a quote. Review each electrical enclosure business website using our patented website previewer for a better understanding of what each business specializes in. Then, use our simple RFQ form to contact multiple electrical enclosure companies with the same form.
Electrical Enclosures Informational Video